Seeing Double
Jean Sirius
This is a special web edition of the book. Click on an image to see a larger version. Click links under each of the pages to see the individual pieces enlarged. And, of course, if you like what you see, consider buying the book.

© Copyright 2001 by Jean Sirius

www.jeansirius.com

Photographs of people by Tee A. Corinne
Photographs of artwork by Jean Sirius

Published by Sirius Books, PO Box 9665, Oakland CA 94613

For my precious jewel:
I'll be seeing you.
Acknowledgments
It was the most harrowing year of my life, and I could never have done what I did without help from the communities that supported Cara, and me, and us. There were people to run errands, people to sit with Cara to give me an evening out of the house, people to cook, people to organize each other so we were taken care of. Whenever we needed something, it materialized. Prayers were said and light was called for us, by people we knew and people who never told us their names. I thank the staff of the Health Service at the University of California, Berkeley, where Cara worked, for the love and compassion and generosity they showed; BMUG, now PlanetMUG, an electronic community that took us to its heart; and the pack of wild college students who adopted me at Mills College, who had the energy and made the time to help us when things got really hard. My best friend, Anne Casey, and my high school sweetheart, Keith Benson, were rock solid, available 24/7, and deserving of stars in their crowns in heaven. Jackie Dennis insisted this book was going to happen, like it or not. Tee Corinne, who took the wonderful pictures of us, pushed me over the edge.
If it weren't for all these people, there wouldn't be a book. If it weren't for some of them, there wouldn't be a me.
Table of Contents
Seeing Double
Blue
Pink
Brown
Orange
Purple
Green
Yellow
Red
Gold
Black, White
Aftermath


This is a book about how the world looks after a concussion, or after repeated blows to the heart. This is a book about passion, devotion, and sleep deprivation psychosis. There aren't very many words. Words don't get anywhere near the experience.
When Cara and I had been together for ten years, we found out she had cancer. She endured a few months of treatment, then went back to work. For five years we pretended we were going to grow old together; then the cancer recurred. For three years after that, we stubbornly defied prognosis. I took care of her at home for the last year.
During that year, these pieces were taking shape on a work table at the foot of our bed. Cara loved to watch the process: it made her happy and proud. A couple of weeks after our eighteenth anniversary, in 1997, the ninth pair was assembled. A couple of weeks later, the flame of her will having nothing further to burn, my darling Cara died. A final two collages were made in December.
A couple of months later, on the nineteenth anniversary of the day Cara and I met, my psychic predicted a book that would help us reconnect in some future life. Still exhausted, I resisted. She said, "Nevertheless." A couple of years later, my friend Tee suggested a book of my collages. I told her it was a terrible idea.
So. Anyway. You're reading this. If it's a very old book, ask yourself: "Did I used to be Cara? Did I used to be Jean?" Then follow your heart. Even though it will probably get broken repeatedly, it is the only thing worth following in this world.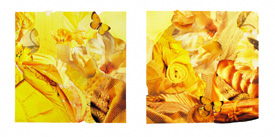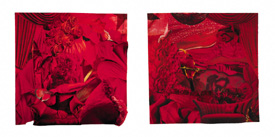 I started making collage in 1989, the year we found out Cara had cancer. We said, "Cancer isn't a sentence. It's just a word." Cara believed she would survive. My heart said, "She's leaving me, and I didn't even know she was unhappy." For the time we had left, if Cara told me what she wanted, I moved heaven and earth to make it happen. There were many to help, and still the process nearly killed me. Arriving at the bottom of my reserves, I started digging. The last six weeks of Cara's life, I was sleeping, lightly, for three or four hours a night, swimming up near consciousness every hour or so, to check whether she was still breathing, or if she needed anything. That pattern continued after she died, which meant I woke with a start several times a night. Because she wasn't. Six months later, my psychic said there was some distance to go before I was back up to empty.
It's been four years. I'm not full. But I'm somewhat north of empty.